Family Cruising Tips on the Norwegian Joy
Are your kids ready to the hit the high seas? Yes, cruising can be a great family vacation option, especially for multi-generational travel. In this second installment of our Norwegian Cruise Line series, we will do a deep dive into the pros and cons of family cruising with Norwegian and answer some of your burning questions. So let's get started!
IS A CRUISE RIGHT FOR MY FAMILY?
Family travel can be a challenge, trying to please everyone (without going broke.} All-inclusive family cruises are appealing for their one-stop-shop model providing quality family activities while still catering to each individual's likes and dislikes.
PROS:
All-inclusive prices

Kids clubs

Family friendly programming

Fun destinations

Unpack once
CONS:
Restricted vacation dates (must match sail date)

Cheapest options usually mean buffet dining only

Condensed living space

May be tough for family members who suffer from motion sickness
We absolutely love Cruise Critic's breakdown on cruising with families. You can check out their indepth post over here.
We recently reviewed Norwegian's newest ship, the Joy, and found she is just brimming with wonderful amenities for families. Let's check it out.
WHAT FAMILIES CAN EXPECT ON THE NORWEGIAN JOY
During our first post on the Norwegian Joy, we hit the high notes on the top amenities offered on the Joy.
During this post, we are going to dig a little deeper on how those amenities can make or break your next family vacation.
FAMILY-FRIENDLY ROOMS ON THE NORWEGIAN JOY
The Norwegian Joy offers a plethora of different stateroom layouts. We are going to focus on the ones we think are the best fit for family travel. In our opinion, having ample storage and a separate sleeping space for the kids is on the top of our list. Having trouble deciding what's the best fit for your crew? Give us a call for advice tailored to your family's needs.
THE HAVEN
The Haven 2 Bedroom Family Villa with Balcony. This expansive suite located in the exclusive Haven section features 2 bedrooms (I King bed, 1 Double sofa bed) and 2 bathrooms. I'll be in that ocean-view tub if anyone needs me.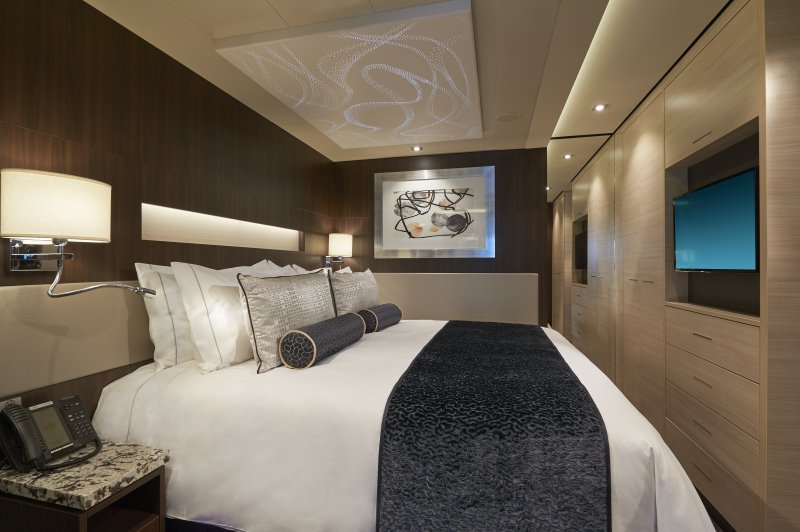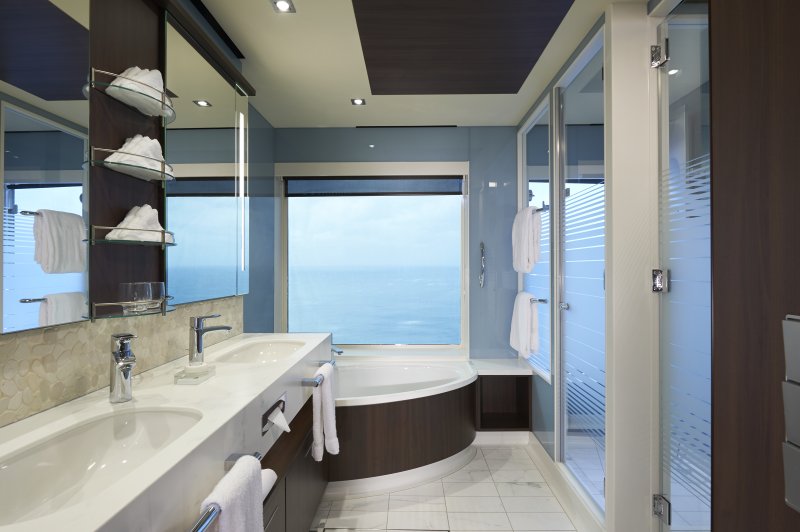 The Haven Suite - Connecting Stateroom. Features forward facing views and the option to connect to a balcony stateroom.
The Haven Family Villa Suite with Balcony. Features 1 King Bed with pull out sofa and curtain separator.
CONCIERGE LEVEL
Concierge Family Suite with Balcony. Features a king-size bed with murphy bed.
Concierge Family Inside. Features 2 bedrooms, 2 bathrooms (one with a bathtub), living area with double sofa bed and real-time virtual balcony. Yes, it's an inside cabin but we think all the extra space will pull you away from the balcony!!
MINI-SUITE
Mid-Ship Mini-Suite with Balcony. Mid-ship location means easy access to everything and these suites feature 1 Queen bed (or 2 single twins), and a sofa bed.
BALCONY
Large Balcony accommodates 3-4 Queen bed (or 2 single twins), a sofa bed and a drop down single bunk.

Balcony with Connecting Stateroom. Perfect for families, these staterooms offer connecting options so you can customize the perfect fit.
OCEAN VIEW
Family Oceanview with Large Picture Window. Located near the kids' area, these cabins sleep up to 5 and include 1 Queen bed (or 2 single twins), a sofa bed (with curtain partition) and 1 bathroom with a bathtub.
INSIDE STATEROOM
Family Inside. This is an affordable option for families, offering 2 lower beds that convert into a queen and two pullman beds (a/k/a top bunk beds).
In all of the rooms, we were impressed with Norwegian's attention to detail, extra storage and USB ports. Yes, you read that right!! In addition to the 2 standard electrical outlets, The Joy has added a couple of USB ports under the bedside lights. Game changer for all our mobile device charging needs.
WHAT TEENS CAN EXPECT ON THE JOY
First off, cruising is a great choice for teens. They get a measure of independence they probably don't enjoy on land, being able to hang with their friends, explore the ship, and eat whenever they want. Here's our take on the best features for teens on the Joy.
FEED THE HUNGER
Welcome to the Freestyle Experience. Norwegian's entire fleet has no set dining times. So teens can feed the hunger whenever it strikes, taking advantage of all-you-care-to-enjoy buffets morning, noon and night.
We found the buffets to be very nice, with a wide range of dining options including allergy friendly and gluten free dining selections.
ENTOURAGE TEEN CLUB
Teens between the ages of 13-17 get their own private lounge and planned activities in the Entourage. Parents can register their teens at any time, after which they receive a wristband for club access. The Entourage Club combines a hang out zone and game zone, with Teen Counselors available to kick off activities and challenges. Teens can come and go as they please and take part in activities of their choice.
We found the Joy's Entourage Club a little small, located at the back side of the Galaxy Pavilion. However, many of the teen activities happen around the ship so they shouldn't feel too confined.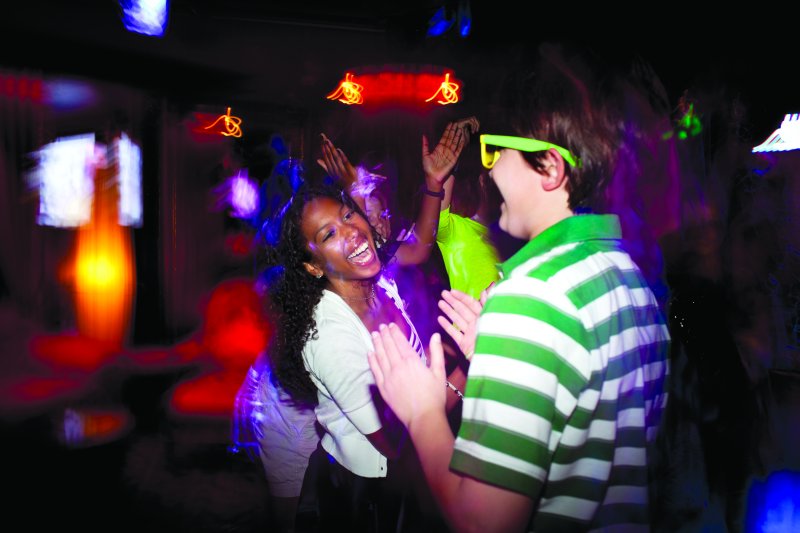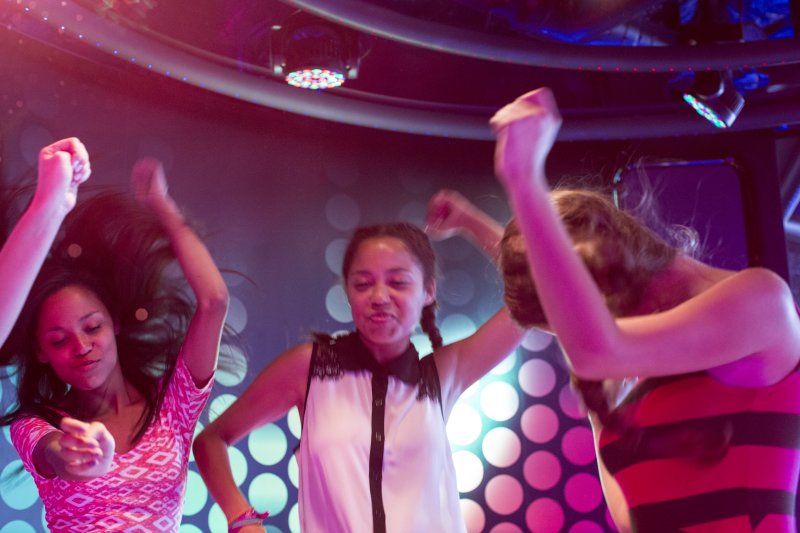 We recommend bringing along some lanyards in an attempt to avoid the "I-lost-my-key-card" drama. This is a great family pack with hopefully approved colors (but more options are available online).
One more packing tip: If you signed up to get the on-ship WiFi as one of your on-board perks, or are planning to use the Norwegian Cruise App, these Waterproof phone pouches are fantastic! Kids can carry their phone and cruise key together. Let's be honest - they are going to carry their phones anyway to access their camera and off-line games (and because life might end if they are separated from their devices!!) Set up everyone on a WiFi app like Whatsapp to communicate while at sea.
GALAXY PAVILION
This gamer's playground combines interactive VR games, a 7D Cinema, NASCAR-style race cars and a Formula One race car simulator along side traditional arcade games.
While we KNOW teens will be in love with this area, parents need to be aware of the additional costs.
Norwegian Joy offers 90 minutes of unlimited play for $29. If you've got a hard-core gamer in your family, you might want to purchase an unlimited pass for $199 that lasts the entire cruise. That sounds like a lot, but let's just say your gamer wants to visit the Galaxy Pavilion once each day of the cruise ($29 x 7 = $203).
Something to consider.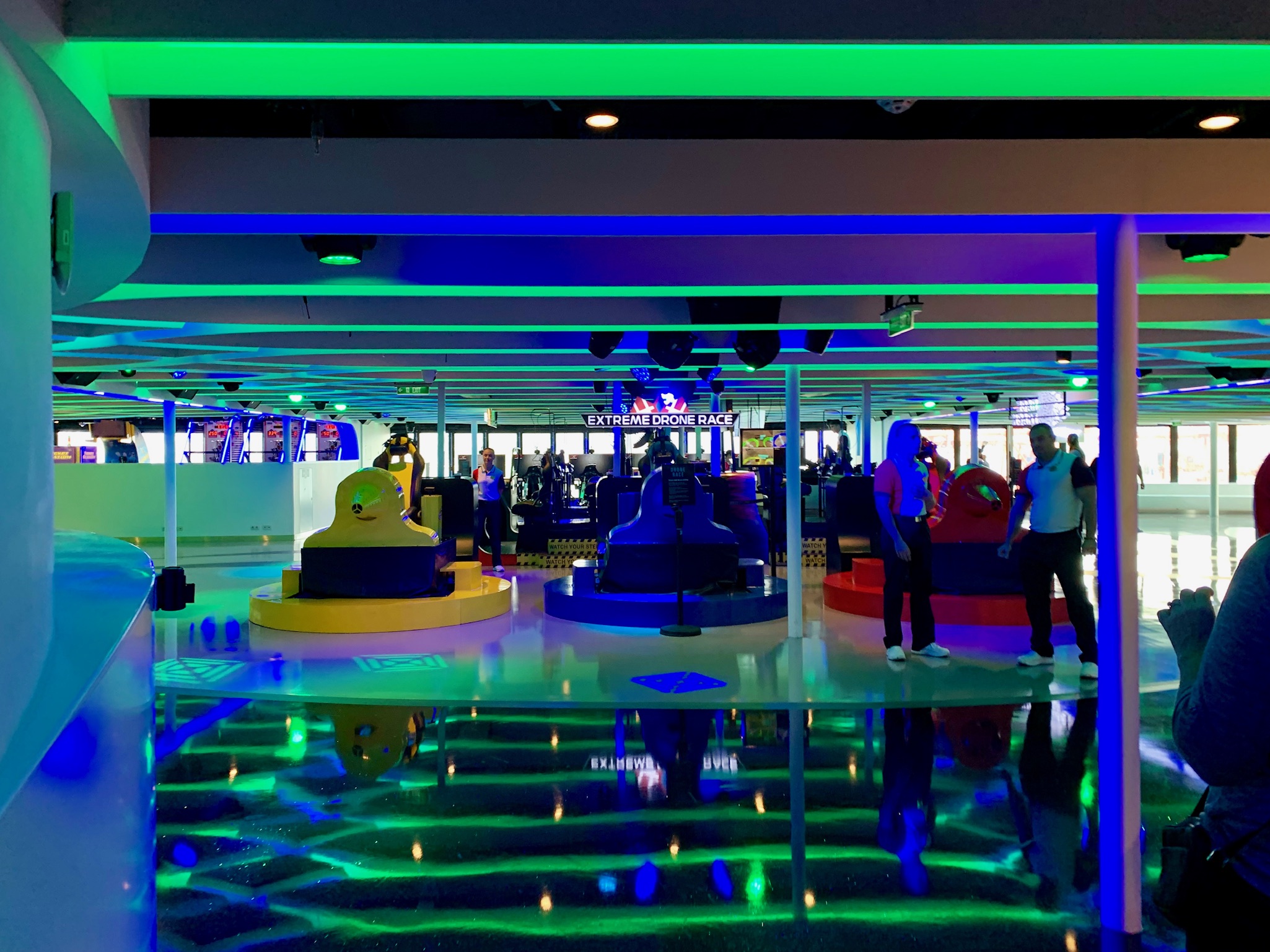 Oh, and for your Mario Andretti fans, the snazzy F1 Simulator costs an additional $10 for each ride.
SPEEDWAY GO-KART TRACK
It's the photo that makes everyone want to jump on board Norwegian's sister ships, the Bliss and the Joy. As we mentioned in our last post, these electric go-karts zip around the 2-level track at speeds of up to 30 mph. The go-kart tracks are available on both the Norwegian Joy and Norwegian Bliss - but they are not included in your cruise fare. Each race, consisting of 10 laps, costs $15. Or for $199 per cruise, you can purchase an unlimited racing package.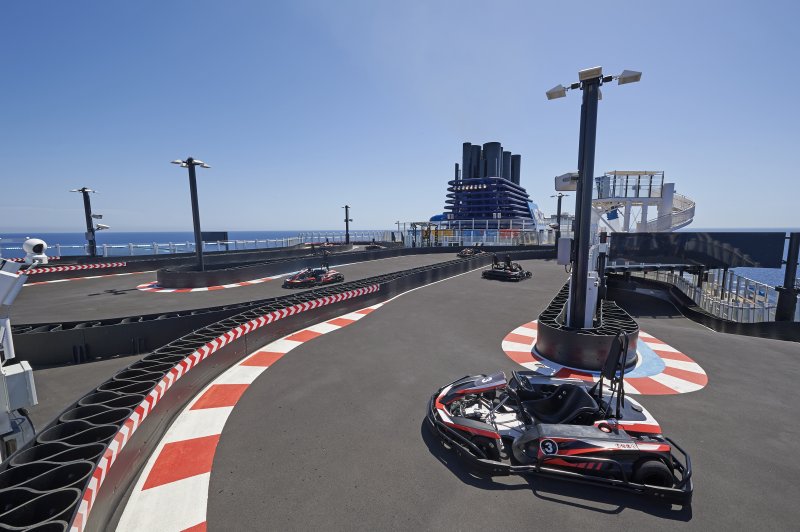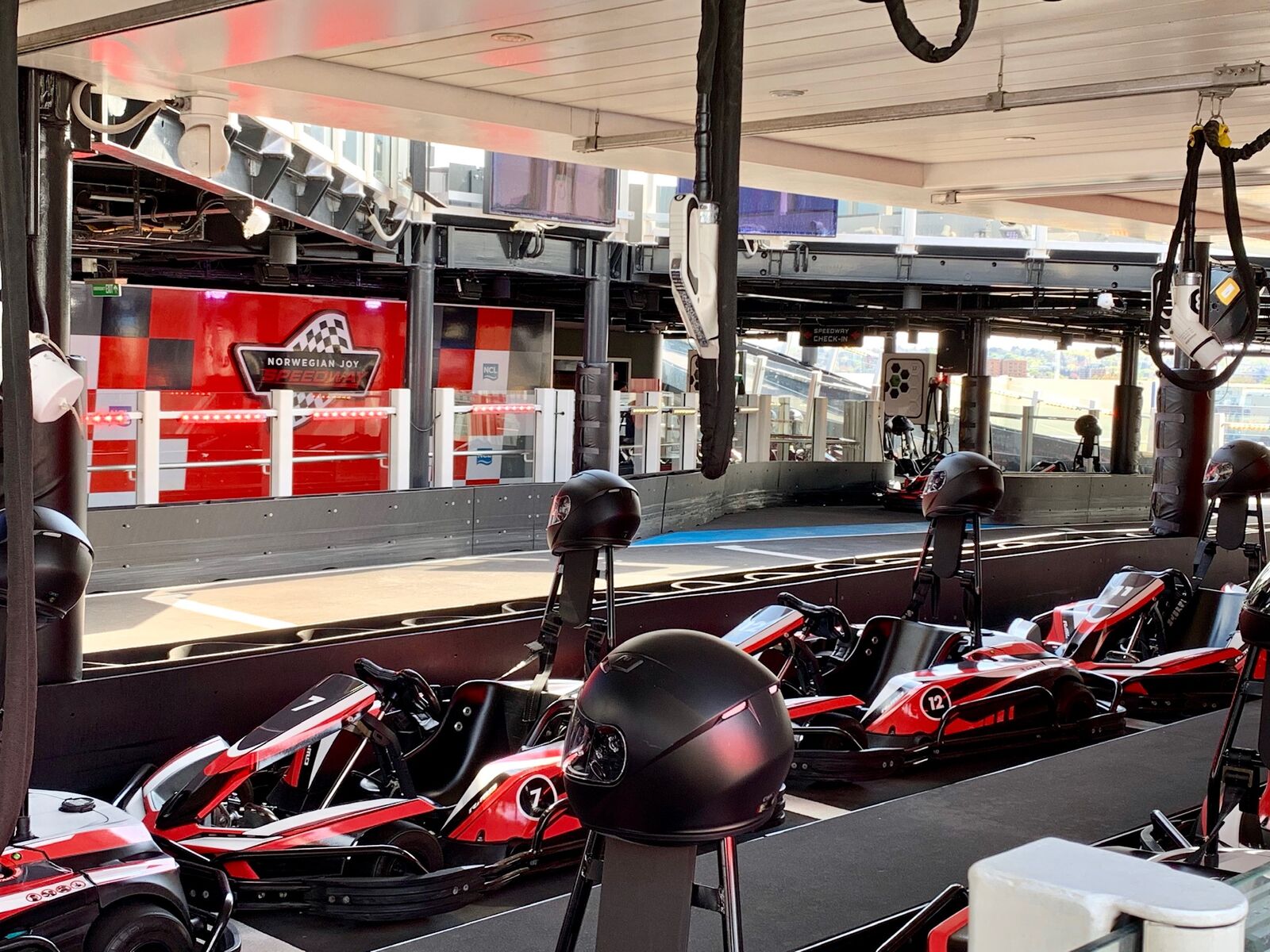 Reservations are required and we recommend making those as soon as you get on the ship either via your in-room TV Screen or on the screens located near the elevators on each deck.
WHAT YOU NEED TO KNOW ABOUT THE KIDS CLUB ON THE NORWEGIAN JOY
If you're craving some adult-only time, check out the children's programs available on Norwegian's cruise lines.
Norwegian Joy has a large kids area called the Splash Academy. On the Joy, Splash Academy is located on Level 5 forward (very important to remember this - if you are in the aft you will never find it.) This kids only area has separate rooms for different age groups. The rooms are very colorful, with limited seating, and basically look like big daycare rooms.
We were impressed with the check-in area and the level of security offered for our little ones (Seriously, not easy to find on the ship). Parents are required to register their kids at the beginning of the cruise and kids receive a wristband for the duration of their stay.
The Turtles (ages 3-5 years) get a cute little room with glass windows in the center of the space. The highlights of the Turtles program include parades, treasure hunt and circus school. Turtles also get to enjoy arts and crafts, active games, sensory play, developmental activities and storytelling.
Kids aged 6-9 years can join the Seals Team and have the chance to learn circus skills such as plate spinning and devil sticks, enjoy theme nights, sports activities, active games and arts and crafts.
More mature 10-12 year-olds are invited to the Dolphins' Room to explore and engage in lots of activities with kids their own age.
Here are the activity sheets for our recent inaugural cruise from Vancouver, which gives a brief idea of the activities available.
Have kids of varying ages? The Freestyle Room offers siblings the chance to hang out together if they want. Special hours apply.
Regular Splash Academy programming is complimentary. During at sea days, the Academy closes during meal times (12-2 PM, 5PM-7PM). On port days, the Splash Academy is open all day, with meals available at an extra cost of $6 per child, per meal. Late Night Fun Zone costs $6 per child, per hour; $4 for each additional sibling.
Click here to view more information about the Splash Academy on Norwegian's site.
FAMILY CRUISING TIPS AND REMINDERS
Here are a few reminders to make your family cruise go a little smoother.
Pack Light. Norwegian limits each person to 2 checked bags.
Check-In Online. Expedite the check-in process by utilizing Norwegian's on-line check-in or download Norwegian's Cruise App. Regardless your method of check-in, don't forget to bring those hard copy travel documents, confirmation printouts and passports as well.

Download a WiFi Communication App. Before setting sail, we recommend downloading a WiFi App to help with on-board communication. WhatsApp is a great free option but requires some set up and practice time. Norwegian's Cruise App has an on-board text feature for a nominal fee and it's getting great reviews. By setting up the whole family, everyone can group chat and see the day's itinerary.

Embark early. Getting on board as early as possible lets the entire family explore the ship and get used to their surroundings. Grab a snack (or mommy drink) then move to the next step.

Make reservations. If the reservations were not open pre-departure, as soon as you are on board, go to the reservation screens at the end of the elevator banks on each deck and reserve your must-do attractions.

We recommend making reservations for the Speedway first, as they book up fast. Then select your show times, followed by any signature dining reservations.

Register for the Spash Academy. Once your top level reservations are made, and if you are traveling with kids 3-12, head to the Splash Academy to register the kids. Availability is not guaranteed, so we recommend getting everyone registered early. Even if you don't use it, you'll be glad you had the option. Remember - Level 5 Forward and Level 5 Aft don't connect on the Joy - so take the Forward elevator to reach the Splash Academy!!

Register for the Entourage Club. For teens aged 13-17, head up to the Galaxy Pavilion to sign up for the Entourage Teen Club. A parent/guardian must complete the reservation.

Set spending limits. 24-hour internet service, arcade games and other specialty items are accessible with your stateroom key card. Fees are charged directly to your on-board account. To avoid any unexpected charges, head to Guest Services on Deck 6 in the Atrium and set some limits for your child's key card.
BOTTOM LINE
If you can't tell, we think cruising is a great alternative to the traditional family vacation. Great food, lots of activities, and amazing port destinations make cruising an ideal family vacation.
Check out some of our other cruise posts:
Let us know how we can help you plan the perfect cruise vacation!